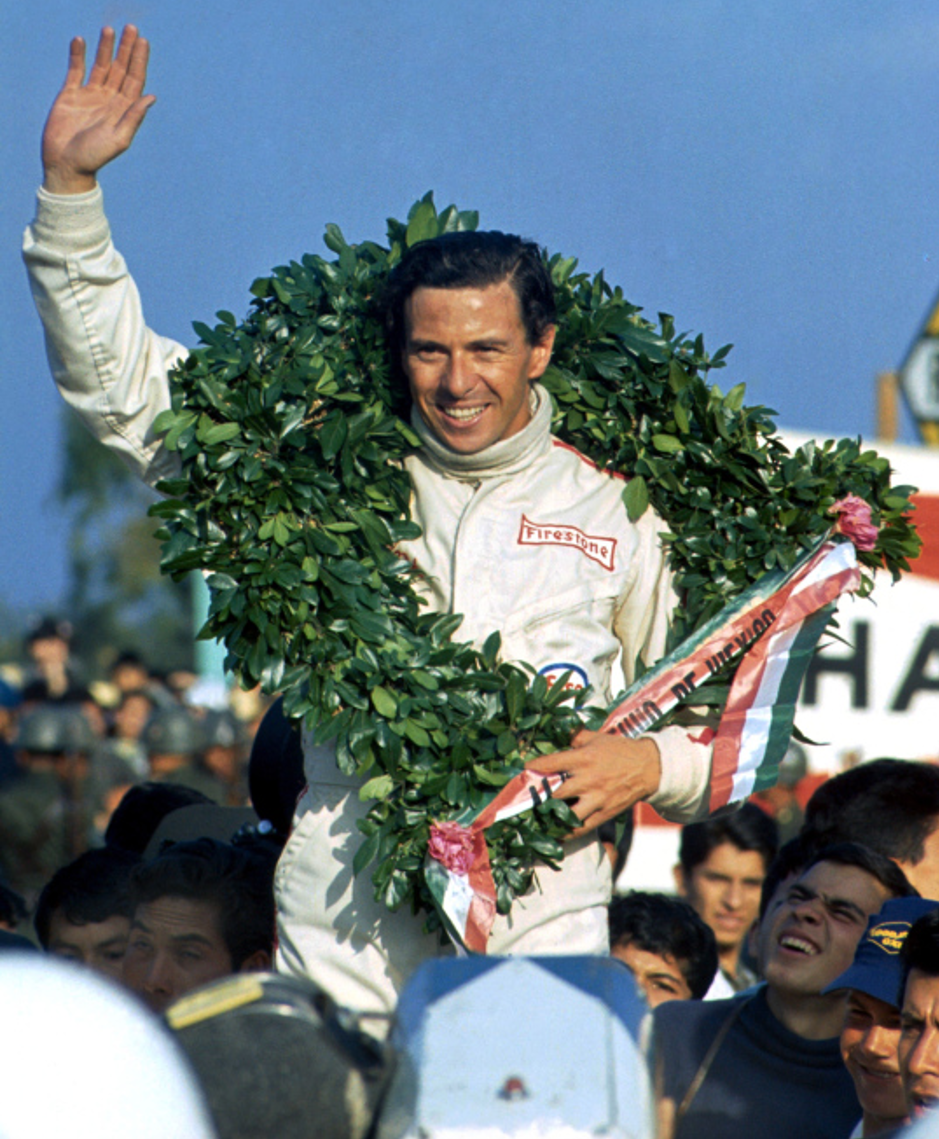 'The Unforgettable Jim Clark' by Peter Windsor: David Benson (Series 1 of 4)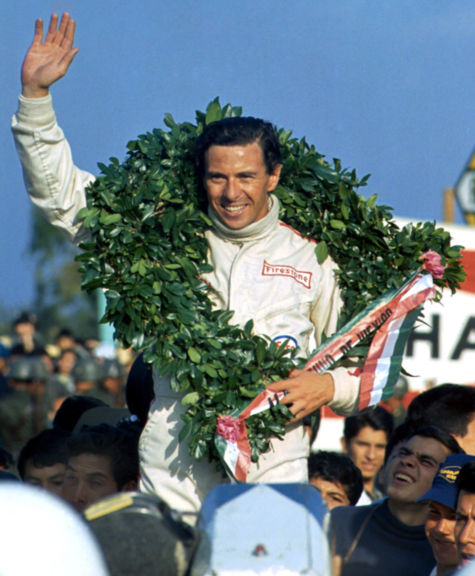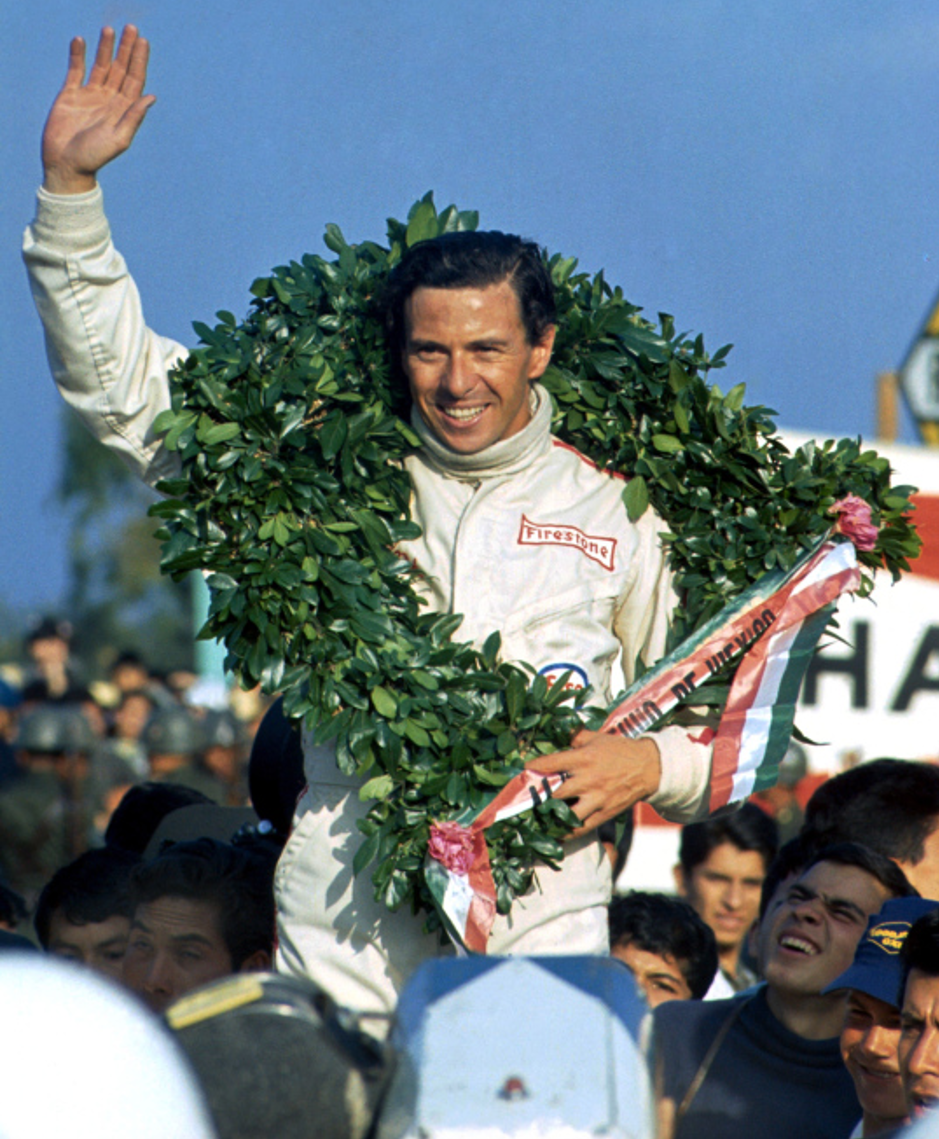 'The Unforgettable Jim Clark' Series 1
By Peter Windsor, first published 7 April 2012
www.peterwindsor.com
HE was nibbling his nails the first time I saw him – just as they said he would be.  Not absently-mindedly but seemingly with aggression, palm turned upwards, free hand inspecting frequently.  He wore black sunglasses, square of frame – Rayban Wayfarers – fawn slacks and no shirt.  His shoulders were as broad as a boxer's, yet he was short, even by my schoolboy standards.
And he walked with that amazing twinkle-toe lilt, springing upwards, like a Scots sword-dancer, with every step.  Jackie Stewart did likewise, we noticed – although his feet were splayed outwards.  (Was this their secret, we wondered?  Were these gaits the key to all that brilliance?)
Jim was lilting now towards the Lotus camp – to the tent which shaded his Lotus 32B-Climax.  The air was surprisingly still, the tempo unhurried.  There was no Colin Chapman in Australia – just Jim and the boys, led by Ray Parsons, the Team Lotus Cortina/Elan/F3 driver.  Standing there, on the Warwick Farm lawn, it all seemed like Fun in the afternoon Sun, not practice for the International 100.
Yet a Clark performance it was.  First there were the powder-blue Dunlop overalls, clean and freshly-ironed.  Then, for protection against flying stones, Clark tied a checkered handkerchief around his mouth and nose.  Next were the Pioneer goggles, heavily taped from the mid-point upwards.  Finally came the legendary helmet, the dark blue Bell Magnum with the white peak.  Clark stepped sideways into the red seat, pulled on a pair of his own-make red gloves and fitted the goggles over the famous eyes.  Down the side of the car, on flanks of emerald green, ran the neat yellow lettering:  Team Lotus.
That afternoon, in Australia, I watched him qualify on the front row, alongside the Brabhams of Graham Hill and Frank Matich.
And then, on Sunday, I saw him win.  He followed Hill for the first phase of the race – while he adapted to a car without third gear – then passed his friend under braking for Creek Corner.   "Copybook Clark" the headlines said the next day.
A few years later, still in Sydney, I joined a small band of people saying goodbye to him at Kingsford Smith Airport.  The last Tasman race had been run; Jim was flying to Indianapolis via Chicago to test the new Lotus 56 turbine Indy car.  After drinks in the VIP lounge he disappeared through Customs; the crowd disbanded.  Clark had gone for another year.
Or had he?  His Qantas 707 halted at the threshold, then taxied back.  I was standing with my father in the Arrivals hall when Clark re-appeared, stewardess at this side.
"Plane's been delayed," he said.  "Come and have a drink."
I asked him about why he'd used a dark blue peak (instead of white) in the 1964 Dutch and 1966 Mexican GPs.  (He said he'd broken the white one and that had been all that was available.)  I asked him about the wet race he'd just driven at Longford in the Lotus 49 ("It was crazy.  Only Piers Courage had the right tyres") and about his chances in the F1 season to come.  I remember him talking wryly about soon having to drive a Ford Taunus down to Monaco for a Ford publicity stunt and, yes, I remember him describing what it had been like to have been hit in the face by a bird at Reims, 1966.  "It felt like a bloody great crow…" I recall him saying.  I told him that I wanted above all to work in motor sport – perhaps as a journalist.  "Just work hard and never give up," he said.  "That's the key."
At the time, though, my appreciation of Clark's talent, of his standing, was too youthful.  For me, live motor racing began with Clark – and the fact that he was so statistically successful was hardly the point.  I revered his character, his way of speaking, the way he presented himself, his home town of Chirnside, his shyness, his desire to drive anything, anywhere, his honesty, his respect for others.  I revered everything about Jim Clark.
Jim was not only a good person; he was a genius amongst his peers. The Standard.  When someone else won a race, they said, "So what happened to Clark?"  When you arrived late for practice, and you wanted to know the lap times, you asked, "So what's Jim doing?"
I am not alone; I know that.  Mention Jim Clark to your average racing person and even the most ardent Michael or Ayrton fan will say, "Yes.  Jim Clark.  He was another."
As we record yet another anniversary of his passing, then, it is tempting to mark April 7 with some solemnity.  Equally, so many people still want to talk about Jim – to learn about him.
Here, then, are some views of people who knew him well – colleagues to whom I have spoken over the years in order to glean just a little more about the man and the driver who just might have been the very best we're ever going to see.
'The Unforgettable Jim Clark' Series 1: David Benson, Motoring Write for the Daily Express
IN 1965 David Benson was a motoring writer for the Daily Express and a Jim Clark fanatic.  He'd seen Clark racing from his earliest days, when he was pushed into the limelight by his great friend and supporter, Ian Scott Watson.
Quite simply, Benson considered Clark to be "better than Fangio" and "faster than Moss" – and he said so in print.  By mid-1965 he had also negotiated to write a five-part newspaper column with Clark.  Jim would be paid £1500 for his time – a good amount of money for those days.
He remembers Clark as being unbelievably pedantic about the columns.  "If I wrote 150mph and Jim knew it was 149mph he would phone me up and ask me to correct it.  Every page I wrote had to have his signature on it before it could be sent to the newspaper.  He was incredible."  To be sure, Clark described himself as having "this old-fashioned fixation for accuracy and devoted nearly a chapter of his autobiography, Jim Clark at the Wheel, to his views about newspapermen!
Consequently, the Benson stories, published in the Express around the time of the British Grand Prix, are good reading.  Clark even describes the build-up to his famous shunt in the Race of Champions that year, when he won the first heat, seemed assured of overall victory, yet unaccountably ran wide at Bottom Bend under pressure from Dan Gurney.  If he had let Gurney (whose Goodyears were in much better shape than Jim's Dunlops) past, Jim would still have taken the win.
In the Express, Clark took the opportunity to quieten those who said that he didn't like pressure, that he could only win from the front: "People have said that I get very ragged when I am pushed hard, and this is exactly the sort of thing that was suggested about my crash at Brands Hatch.  What actually happened was that I decided to use the race to find out just how good were the new Goodyears being used by Dan.  If I could keep up the pressure on Gurney in the race then I could find out whether they were better than the Dunlops I had on my car.  The track was damp and slippery, but I knew I had enough in hand to let Dan pass me and still overtake him again to win.
"Just before the crash I started to put on the pressure.  Then, coming out of Bottom Bend, I slid on to the wet grass on the edge of the track.  The steering wouldn't answer because of the rutted conditions and the wetness of the grass."
"As it happened, the car then hit a bank at about 60mph.  One wheel flew into the air and the car was written off.  Luckily I only hurt my leg slightly and managed to walk away.  But it was certainly the worst moment I have had this year."
"I tried to get the whole thing out of my mind as soon as possible but I must admit that I still can't understand why it happened at that point:  it is the most unlikely place to have an accident at Brands Hatch."
Clark also took advantage of the Express to give us some idea of his shattering schedule.  In a year when he won both the Indianapolis 500 and the F1 World Championship, he also found time to win the French Formula 2 Championship and numerous saloon and sports car races.
"It started off on Monday, with my flying from Reims to Zurich and attending a special luncheon arranged by Ford, whose engine powered my Indy-winning car.  Then, on Tuesday, I flew to Paris and drove to Rouen for practice for the F2 race on Sunday.  From Thursday to Saturday I was at Silverstone for the British GP.  Immediately after the big race" (which Jim won, nursing low oil pressure in the closing stages by switching off the engine through Stowe and Club! ) "Colin Chapman, Mike Spence and my girl-friend, Sally Stokes, jumped into our car and headed to Luton, where Colin's private plane was waiting.  We arrived at Rouen just as darkness began to fall.  The airport there is pretty primitive, so a few minutes later and we would have had real trouble landing.
"Early on Saturday morning we were up and out at the track for a quick practice session before the race in the afternoon.  And then,m as I won the Rouen Grand Prix" – two wins in two days! – "our party decided to stay overnight and celebrate rather than fly back to London.  Our celebration was pretty mild – a quick glass of champagne at the prize-giving – then dinner in a small French restaurant with the mechanics.
"If I am driving well nowadays, I believe it is because I am doing so many races and able to maintain peak form…"  Excluding test sessions, Clark competed in 59 events that year (1965).
Picture credit: Motorsport Network
Thank you to Peter Windsor
www.peterwindsor.com