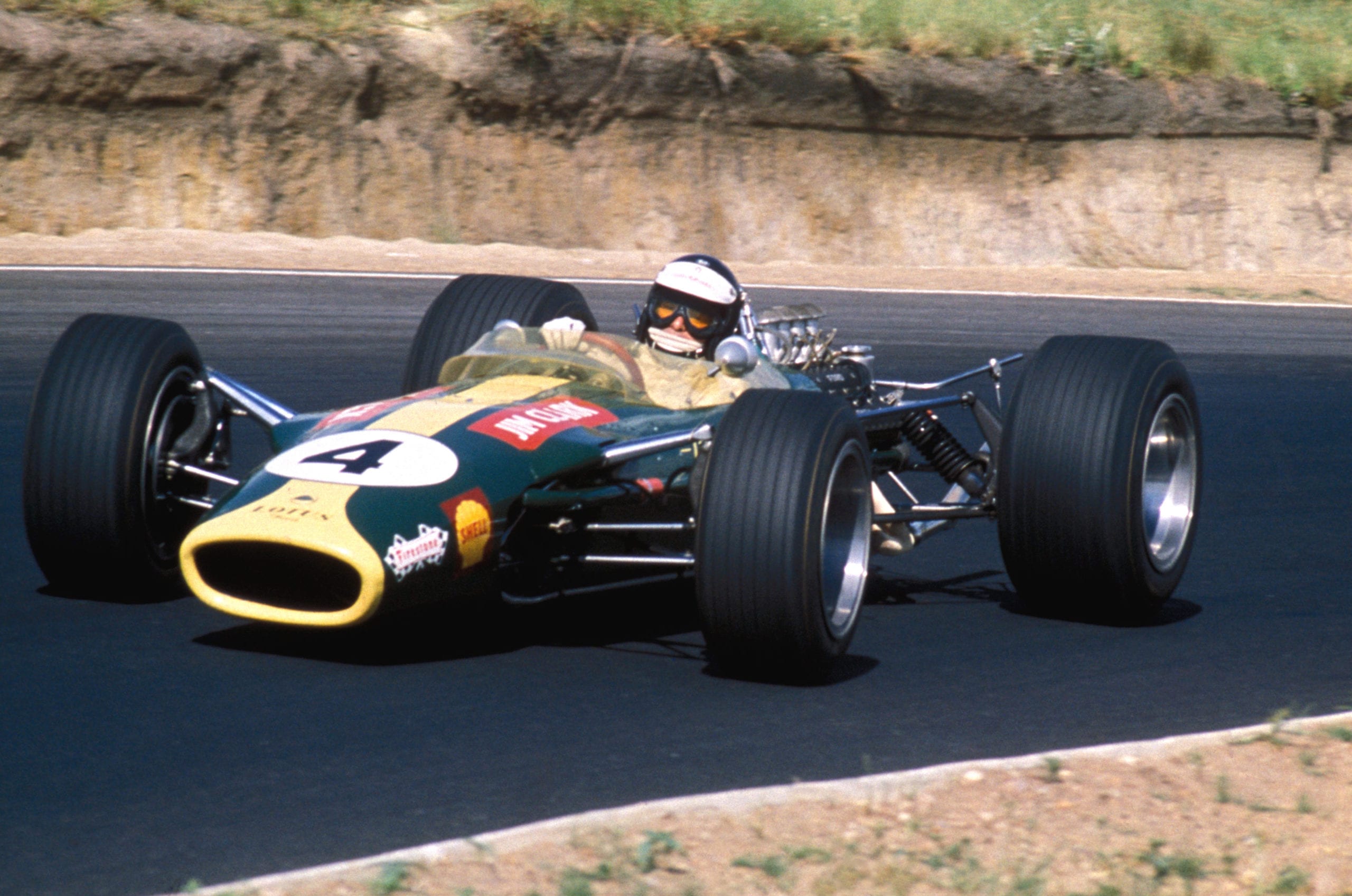 From 1961 onwards Jim was a fixture in the Lotus Grand Prix team under team boss Colin Chapman and by the end of the season he was their main driver. Jim won the non-championship race at Pau that year and achieved 2 further podiums in Zandvoort and Reims finishing 3rd on both occasions. In 1962 Jim so nearly tasted championship success. Chapman introduced the Lotus 25 with its revolutionary monocoque chassis. Clark won three Grand Prix- Belgium, British and French, finishing 2nd in the Championship to team-mate Graham Hill after Clark retired on lap 62/82 the final race of the season in South Africa due to an oil leak.
In 1963 Clark and Lotus became a dominant force with Jim winning an incredible 7 out of the 10 Grand Prix to take the championship with 3 races remaining in the revolutionary monocoque chassis Lotus 25. Chapman had found the perfect driver to compliment his skills as a designer and Jim became the youngest ever World Champion aged 27. The seasons success included a 2nd in the famous Indianapolis 500 on 30th May when Jim narrowly missed out to Parnelli Jones in a controversial race. Jim was fast becoming a sporting star for Scotland across the UK, Europe and in US admired not just for his natural ability as a racing driver, but also his sportsmanship, good humour and humility.
1964 was a difficult season for Jim who won 3 races but had a string of 3 consecutive retirements to add to an earlier one in France, significantly hampering his chances of retaining his championship. His luck was out in America as well after securing pole position in the Indy 500 in a bid to finish one better than his 2nd in 1963. He finished 24th due to a tyre failure resulting in suspension damage. However, Jim did famously win the British Touring Car Championship in the Lotus Cortina and the British and French Formula 2 Championships.
In 1965 Jim Clark had his most successful season. He secured the Formula One World Championship for the 2nd time by winning 6 out of the 9 races he competed in and having missed Monaco to compete in the Indy 500, he won commandingly leading 190 out of the 200 laps in the ground breaking Lotus 38. It was the first rear engined race car to win the Indy 500 powered by Ford V8. Furthermore, Jim won the first of his 3 Tasman Series championships and the Formula 2 Championship. Jim remains the only racing driver in history to win both the Formula 1 World Championships and Indy 500 in the same year. It was perhaps the greatest ever season by any driver in the history of motorsport. Jim was now one of the most popular sporting stars in the world with celebrity status akin to a Hollywood film star, he was in demand for media interviews and sponsorship. At heart he was a shy farmer from the Scottish Borders, a vastly different world to glamour and danger of motorsport and returned home when ever he could to enjoy being with his family and friends.
Due to lack of reliability, bad luck and car development Jim struggled through the 1966 Formula 1 season with only 1 Grand Prix victory in the USA in a Lotus 43 BRM. He qualified 2nd again at the Indy 500 and held grid position to claim another runners-up spot. In his second entry into the Tasman Series he finished the year 3rd after a spell of 3 retirements in the first 4 races.
1967 saw the introduction of the Lotus 49 in which Jim won in on its debut at the Dutch Grand Prix. However, his 4 victories that year did not outweigh his 5 retirements causing him to finish the season in 3rd. Despite winning the Tazman Series Championship with five victories and three second places in the 8 races that year, Jim qualified 16 and finished 31st in his final Indy 500 appearance to complete a relatively unsuccessful season.
Jim's final season in 1968 began with his third Tasman Series Championship, to add to his victory in the South African Grand Prix on the 1st of January. Jim Clark died on the 7th of April 1968 at Hockenheim in Germany in a Formula 2 race when his car left the track on lap 4.