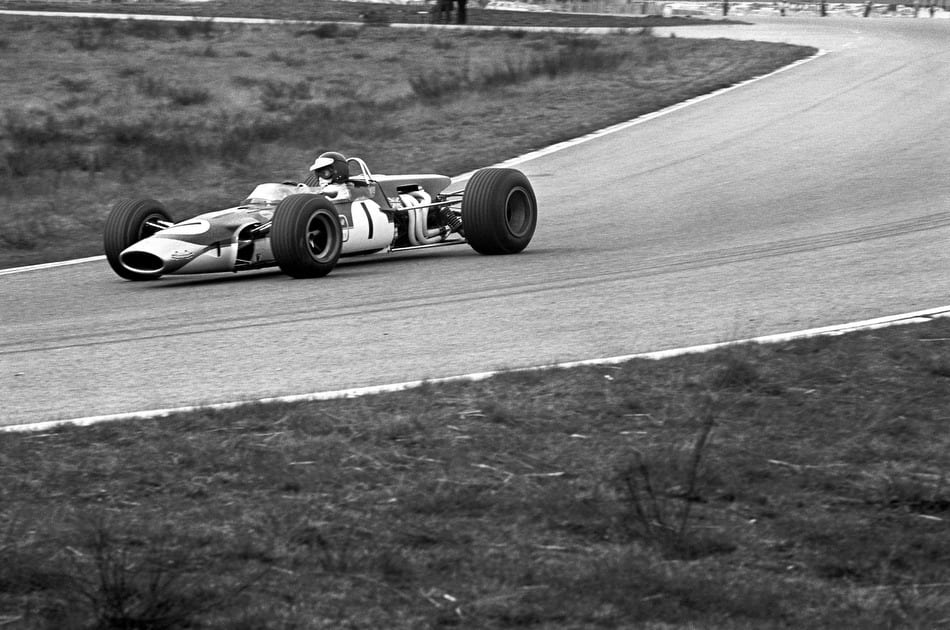 Motorsport in the early days of Formula 1 was unfortunately inherently dangerous. Jim was involved in several spectacular accidents during his career, but had never suffered serious injury until 1968. Tragically on 7 April Jim was competing in a Formula 2 at a wet Hockenheim during a break in the Formula 1 season, when his Lotus 48 in Gold Leaf livery left the track at over 150 mph, somersaulted and collided with a tree killing him at the age of 32. There were no witnesses. Time suddenly stood still.
Colin Chapman and his team mate Graeme Hill were devastated. The world was shocked by the death of its shining star. Jim was considered to be the one of the safest, skilled and naturally gifted drivers and his peers expressed doubt that driver error had caused the crash. A deflated rear tyre was widely blamed and accepted as the cause for the incident. Hill would go on to claim the Formula 1 World Championship in 1968, which he dedicated to his friend's memory. Fellow racing driver Chris Amon summoned up the sentiments of many others at the time: "If it could happen to him, what chance do the rest of us have? I think we all felt that. It seemed like we'd lost our leader."
In 1963 and 1965 huge crowds of family and friends had celebrated Jim's World Championship victories and welcomed him home to Chirnside, Duns. The reaction to his death was one of shock and disbelief. Just a few days after the tragedy, Formula 1 stars from around the world flew to Scotland and gathered with his family and the local community at Chirnside Parish Church to pay their respects at his funeral. His memory and inspiration still lives on and is cherished by many to this day.