'The Unforgettable Jim Clark' by Peter Windsor: Trevor Taylor (Series 2 of 4)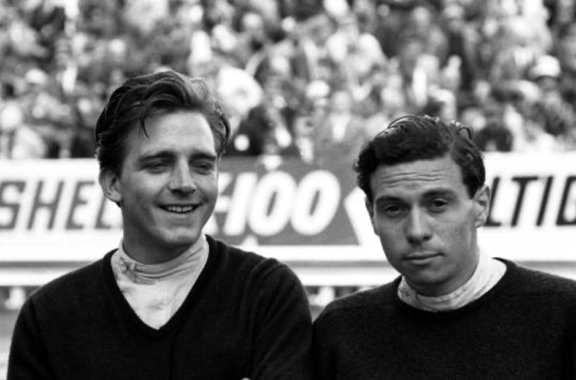 'The Unforgettable Jim Clark' Series 2 of 4
Trevor Taylor, Lotus Team Mate & British Motor Racing Driver
By Peter Windsor, first published 7 April 2012
www.peterwindsor.com
IN THE LATER years of his life, Trevor Taylor began to feel the effects of his racing accidents.  There was the horrendous shunt at Enna, in 1963, when he was thrown out of his F1 Lotus 25 at over 100mph;  there was the finish-line shambles at Rouen in 1962, when he slammed into the back of Maurice Trintingnant's Lotus 24;  there was the infamous crash at Spa, 1962, when he and Willy Mairesse touched wheels on the fast run up to La Source.
"I'm having specialist treatment," said Trevor when we met a few years ago.  "I'm beginning to feel it in my back and neck.  The problem is that it's affecting my golf…"
Trevor worshipped Clark; and Jim always felt for Trev.  They were Lotus team-mates for four years and even shared the Formula Junior Championship in 1960, scoring the same number of wins, seconds and third places.  Until the final round, that is, when Jim had another commitment and Trevor looked to be set to take the title.
"But I couldn't do that, could I?" says Trev.  "Not after all those places and things.  So I decided that we should split the championship, regardless of what happened in the last race."
Taylor raced closely with Clark – closer, probably than did any other driver, if you factor in the similarity of their cars.  And once, in the 1962 Cape Grand Prix, at Killarney, in South Africa, Taylor beat Jim.  "We were racing out front together – you know, Team Lotus cleaned up the Springbok Series that year – and Jim spun when I was behind him, you see.  That was the only reason I won, and even then Jim caught up and finished second, right on my tail.  I got a real talking-to from Chapman after that one!"
Even then, with Clark only recently inheriting Number One status at Team Lotus, it was clear that Jim was the Master and Trevor the Pupil.  "You could always learn so much from Jim.  You had to ask him the right question, mind, but I remember that if you were following him he often did things with the car that made you wonder.  And when you questioned him about them he'd have a perfectly logical explanation.  'Well, this is an understeer sort of corner,' he'd say, 'and you've got to drive it like that to get the power on early coming out.'  He was a complete natural, was Jimmy – a complete, born natural.  Even in Formula Junior it was obvious.  We had some pretty close races in those days, with me in a privately-entered Lotus 18 and Jim in the works cars but whenever I was racing with him it always seemed to me that nothing was an effort for him.  He was never in trouble;  he was always in control.  Me?  I had to work much harder to go just as fast.  Which is why I was so stunned when I heard about his accident at Hockenheim.  You couldn't believe that anything would happen to Jim.  He was that good."
Taylor first raced against Clark in a Formule Libre race in 1959.  Taylor drove one of the new rear-engined Coopers, Clark the brutal Border Reivers Lister-Jaguar.  Taylor won, but he could remember being impressed by the young Scot in the sports car, leaping over kerbs and knocking down cones.
"There's no way he should have been competitive in the sports car, but there he was, giving me a race.  He spun eventually and I remember asking, 'Who is this Jim Clark?'  He made an immediate impression on everyone who saw him."
Taylor's lasting impression, though, is of the ever-so-nice driver always being concerned with his team-mate.  When Jim first won a Grand Prix (at Spa, 1962) the celebrations were bittersweet.  He'd won but Trevor had had an accident.  That took the fun out of the day.
"He was always asking how you were getting on," remembered Trevor, "If there was anything he could do to help, he'd do it, never mind that you were out there, racing too.  He told me everything I wanted to know and I never once heard him say a bad word about anyone.  This was it with Jim – would never voice an opinion about another driver because I don't think he had any.  He just seemed to like everyone.
"Once I remember him being upset about the reliability side of things.  It was at Oulton Park in 1960, I think, and I'd had an accident due to something breaking.  I can remember Jim coming up to me in the transporter and saying, 'Look Trev, I just don't know what's going to happen next.  I'm very worried about things'.  But then he got into the car and raced as he normally did.  After that, I never remember him worrying.  He was dedicated to Chapman and Lotus."
To the extent that he became the guinea pig.  Fanfare surrounded Clark's drive in the 1962 Dutch GP, when he raced the new monocoque Lotus 25 for the first time.  Clark led the first 11 laps, then dropped back to finish ninth after a clutch problem;  Taylor finished a great second in the space-frame Lotus 24.  Years later, Trev suggested that Jim would have won that race had he also started in a 24.   "The 24 was a much better car than it looked alongside the 25, and Jim sometimes said that he might have won the championship in 1962 had he done more races with it.  However, he appreciated that Chapman wanted to progress to the monocoque and went along with him.  The last thing he would have done was protest."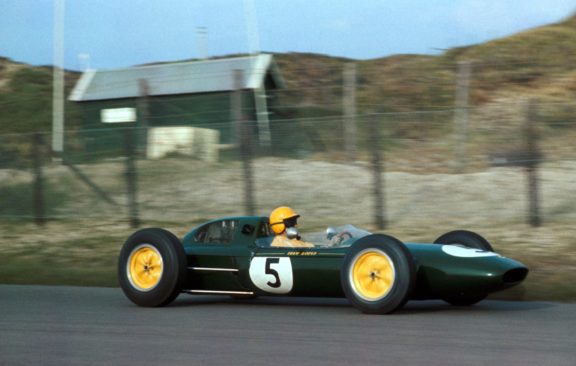 Trevor on the way to second place in the 1962 Dutch GP with the space-frame Lotus 24-Climax;  Jim, though, was committed to the Lotus 25 (below).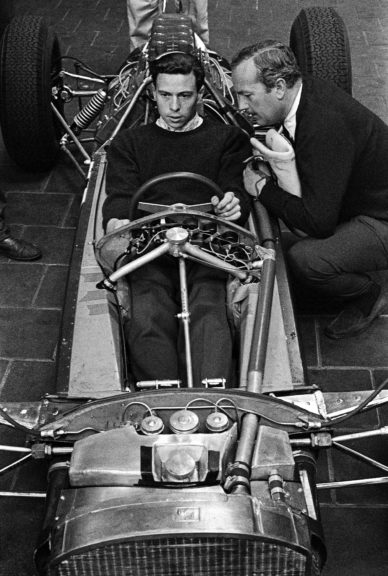 Jim Clark (GBR), sitting in the new Lotus 25, who lead the opening race of the season but slipped to 9th when he encountered clutch trouble, talks with Colin Chapman Lotus Team Owner. Dutch Grand Prix, Rd1, Zandvoort, 20 May 1962.
Trevor didn't attend many F1 races in retirement.  It was enough for him to know that World Champions sometimes refused to race or ran into people they found in their way.
"Can you imagine what Jim would have thought about all that?", Trevor asked incredulously after the 1997 Championship decider in Jerez.  "I just count myself fortunate to have raced in the era I knew.  I'm sure Jim would have felt likewise."
Picture credit: Motorsport Network
Thank you to Peter Windsor
www.peterwindsor.com