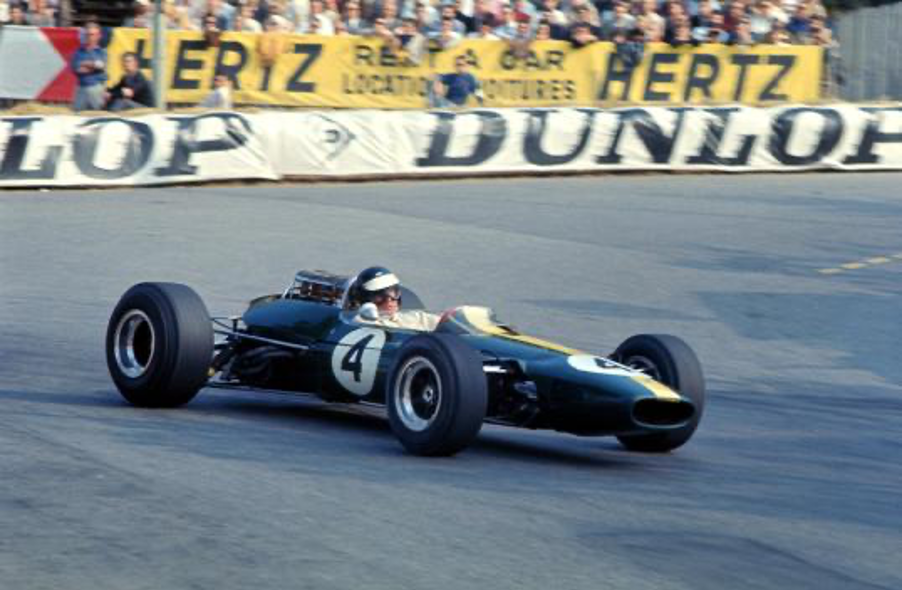 'The Unforgettable Jim Clark' by Peter Windsor: Alex Maskell (Series 3 of 4)
'The Unforgettable Jim Clark' Series 3 of 4
Alex Maskell, Dunlop Tyre Engineer
By Peter Windsor, first published 7 April 2012
www.peterwindsor.com
ALEC MASKELL is softly-spoken, in the Clark mould.  He was also a Dunlop tyre engineer who worked closely with Clark from 1960-65.  Very closely.  The two both came from farming backgrounds and instantly struck up a close friendship.  They'd go testing at Silverstone, find the day rained off, then retreat to the "Green Man" to talk about livestock and arable farming.  Maskell was also able to appreciate Clark's genius first-hand.  "Our figures showed that most drivers wore some tyres quicker than others.  Jack Brabham used his rears more than he did his fronts.  The converse was true of Dan Gurney and John Surtees.  The astonishing thing about Jim was that his tyre wear was the same on all four corners of the car and that he used substantially less rubber than anyone else.  In other words, he seemed to use all four tyres equally.  Jim couldn't explain why – and nor could we.  But the figures went some way towards describing his qualities."
If I have any memories of Clark in action they are for the most part of his ability to slide a car as a fluid whole.  You rarely saw under- or oversteer with Clark.  His corrections were so subtle, so supple, that he appeared from a distance always to be cornering on rails.   Clark described his style thus: "I know I'm inclined to go into a corner earlier than most people.  By that I mean that most people run deep into a corner before turning the wheel to go round.  In this way you can complete all your braking in a straight line.  I prefer to cut into the corner early and, even with my brakes still on, set up the car early.  In this way, I almost make a 'false' apex."
LJK – Leonard Setright, one of the greatest of all motoring writers, once wrote in Carmagazine about being a spectator at the Gasworks Hairpin at Monaco in 1966:
"That was the first year of the 3-litre F1.  The best Lotus could do for the world's best driver was an old Lotus 33 with a 2-litre Climax engine.  A nice engine in a beautiful-looking car;  but, pitted against a 3-litre field, could Clark honestly be seen as having the 'superior equipment' that was so often supposed to account for his superior performance?  Not a chance – but there he was, on the front row.
"When the flag fell, he shot away, intent as ever on establishing such a lead as would deter or dismay those compelled to follow him.  Then, all of a sudden, he was going nowhere, and the field rushed past.  His gearbox had stuck in bottom gear.  Eventually it freed, and Clark set off in pursuit. I was watching from the infield, standing at the very apex of the old Gasworks Hairpin.   Monte Carlo streets are not the easiest on which to overtake, but Clark was doing it time and time again, quite often as he hove into my view.  I found that I could actually hear the cars' brakes being applied;  I noted that Clark was starting his braking at about the point where most of the others finished.   Progressively he would ease them, all the way to the apex of the corner, at which point he would throw a pout of the lower lip as he switched his right foot from brake pedal to accelerator and went hounding off after his next victim. How many he dismissed in a fair fight I cannot recall, but there was no question of anything unfair: his racing manners were always impeccable.
"After 50 of the scheduled 100 laps he was up to third, with a record to his credit – at which juncture, just as he approached my corner, the rear suspension broke and he wobbled to the outer edge of the track and retirement.  Say not the struggle naught availeth:  Clark could fight."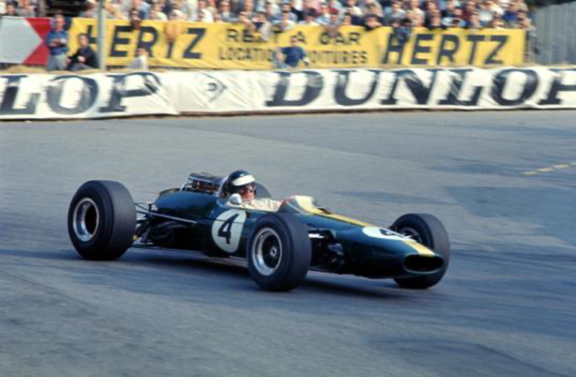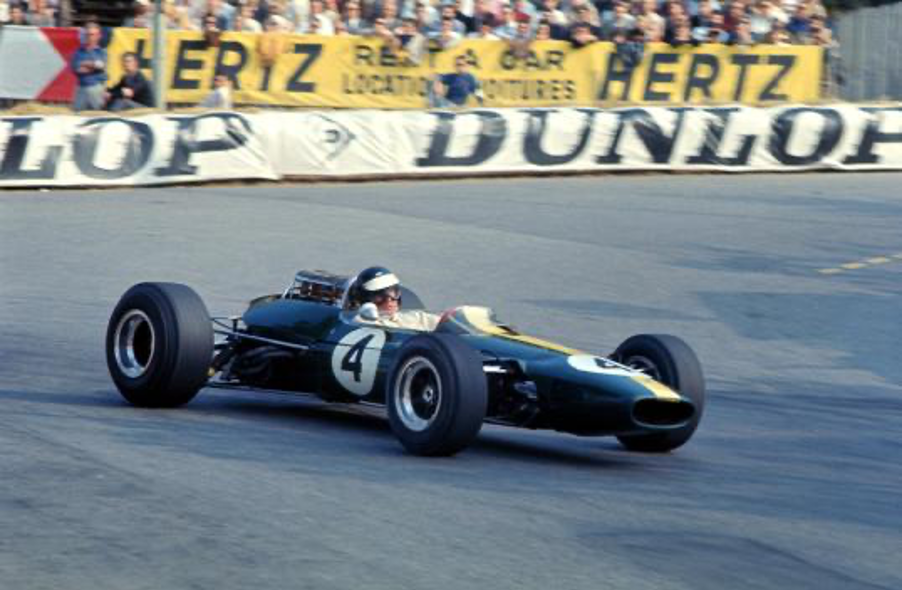 "….he would throw a pout of the lower lip as he switched his right from brake pedal to accelerator…." Jim exits the Station Hairpin, Monaco, 1966
Maskell remembers Jim being so naturally good that he was in some ways an "awkward" test driver.  "I think Chapman was right when he used to say that Clark could adapt to a car's handling rather than criticise it," said Alec.  "He just seemed to have this ability to knock half a second off his times whenever he felt like it.  We'd test tyres all day, select the best one from his comments and then find that he could go just as quickly, if not quicker, on the control tyres.  With that, he'd smile sheepishly and make out that he didn't really know which was the better tyre or why he had gone quicker…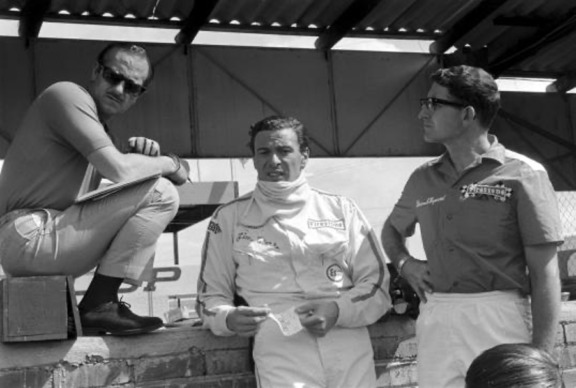 "….but which construction is actually better…?" Jim testing Firestones in South Africa with Chapman and tyre engineer, Brian Hayward
"I think he had something that I've never seen in another driver.  With Jochen Rindt, for instance, you knew there would be another half-second as soon as he got wound up but Jim – he never drove like a tiger – he was just automatically and naturally quick.  I never remember him looking untidy on the track;  and, of course, he was always better on tyre wear and temperatures.  He'd always run cooler than Graham Hill, for instance."
Clark, as he says, used to like to drive as much as possible.  He'd regularly phone Alec to see if Dunlop had any tyres to test purely because he felt like running.  Would Clark, though, have enjoyed days of testing at Fiorano, Lauda-style?  Or using simulators?
"You know, when I think about it," said Alec, "I just can't imagine Jim being involved with today's racing.  He was such a special sort of person.  On the one hand he was so amazingly gifted, on the other he was so genuine – his personality and character never changed, even when he was successful.  I mean, I remember even as late as early 1968, when Dunlop were coming back into F1, Jim ran our tyres at the first Tasman race at Pukekohe.  Even though he only did that one race with them he came over to our boys and gave them a bottle of champagne.  There was no-one like him."
Picture credit: Motorsport Network
Thank you to Peter Windsor
www.peterwindsor.com