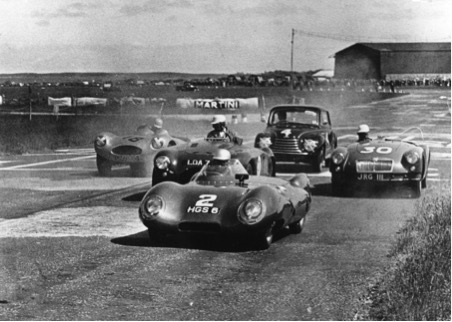 On This Day 16 June 1956 Jim Clark went for a day at the races…
50 years ago today, Jim Clark went for a day at the races…
By THE SCOTSMAN, The Newsroom 
First Published, 16th June 2006
The wonderful story of Jim Clark's very first race on 16 Jun 1956 that helped change the career of a young farmer from the Scottish Borders in to one of the greatest racing drivers in the history of motorsport:
WHEN Jim Clark left home in Chirnside to accompany his friend, Ian Scott- Watson in the latter's DKW Sonderklasse on the long haul to Crimond, the wartime airfield between Peterhead and Fraserburgh where the Aberdeen & District Motor Club ran races for both cars and motorcycles on the same day, he had no idea what was in store.
In fact, he was about to kickstart a career that would see him go on to win countless Grand Prix races, two drivers' world championships and become recognised around the world as one of the finest single seat racing drivers of all time.
The young Borders farmer didn't even know he was down to drive the car. He was simply going along for the run and to support his friend, and later mentor, in the saloon car handicap race.
As for the Crimond circuit, where racing was held on a Saturday to avoid annoying churchgoers, Ian Scott-Watson once told me he thought it the best in Scotland at the time. The track was on the old airfield perimeter and included a long straight, a hairpin, several fast open corners and some gradients. Most other Scottish tracks were flat and less exciting.
Scott-Watson, only too aware that Clark's parents were not in favour of their son's motorsport activities, had entered his DKW under the name of Ecurie Agricol and Clark's entry had been accepted for the sports car race for which you didn't actually have to have a sports car. Any saloon car would do.
"Jimmy loved to go to Crimond," Ian told me not long ago. "We stayed at a bed and breakfast near the village and there was always a barn dance somewhere in the vicinity. He never wasted any time in ferreting out the best looking girl."
But while Ian Scott-Watson was well aware of his young friend's success with the ladies, he also knew Clark was something special behind the wheel of a car. The two had competed in rallies, sprints and autotests in a Sunbeam Talbot and, living in the Borders near the Charterhall circuit, had revelled in the sight of the Ecurie Ecosse C-Type Jaguars with Ian and Jimmy Stewart – the two not related but Jimmy the elder brother of future Grand Prix ace Jackie Stewart – at the wheel.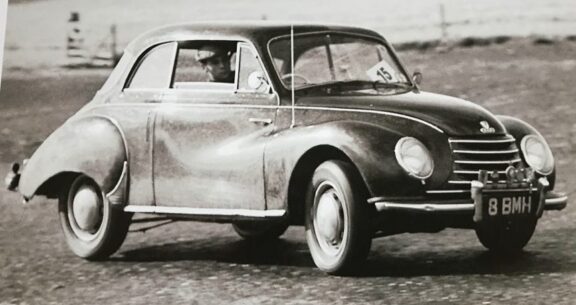 The two had even been there when Giuseppe Farina, the first driver to win a Grand Prix World Championship, lowered the lap record at the wheel of a Thinwall in October 1952.
The DKW may have appeared an unlikely car for someone as enthusiastic as Scott-Watson. High and quite narrow, it didn't look in the least racy. Its 896cc engine developed only 34bhp and it would have taken the two around four hours to complete the run to the north-east tip of Scotland as it would have included at least one ferry crossing.
The Forth road bridge hadn't been built in 1956 but the ferry, which crossed under the shadow of the famous railway bridge, often proved quite exciting as the water was not always calm.
But the three-cylinder two-stroke 'Deek' could boast an impressive sporting heritage. Walter Schluter had won the 1954 European Rally Championship in one and another had taken third overall in the Monte Carlo Rally.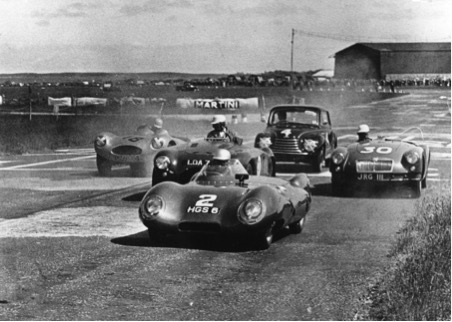 So Scott-Watson had no hesitation in entering his DKW for the event on 16 June, 1956. Running in Class E, an eight lap race for production cars, he was up against some impressive saloons and road-going sports cars, the latter including flamboyant Aberdeen bookmaker Duggie Duncan in a Jaguar XK 120, ID MacDonald and Canadian Bruce Allan in Jaguar XK 140s, Charlie Davidson in a Triumph TR2 and J O'Hare in an MG but, in a race where handicaps were awarded by the organisers based on the morning's practice times, the DKW didn't have to be the fastest car on the track.
In the end, my scribbled notes show number 17, WPS Melville won in a Citroen, followed by Peter Gordon in his Ecurie Aberdeen Austin A90 and well-known Highland Car Club member and Monte Carlo Rally competitor, Kenny McLennan in his Standard 10. Where Scott-Watson finished, I doubt he can remember as the handicapping system was never easy to fathom.
Typically, Clark was three seconds a lap faster in practice than the car's altruistic owner. Scott-Watson knew it would be that way and it was good of him to let the youngster outshine him in his own car. But that was only the beginning. Scott-Watson was to go on to become Clark's mentor and driving force, entering him in his Porsche and Lotus Elite and encouraging Jock McBain's Border Reivers team to put Clark behind the wheel of its white D-Type Jaguar.
In the sports car race at Crimond, there was no handicap and the DKW was hopelessly outgunned. Clark did pass one car and was delighted to do so. But his joy was short-lived. The tailender was heading for the pits with a broken half shaft and the DKW finished in last place.
The winner was Brian Naylor, a late entry in a Maserati-engined Lotus. Borders farmer and Clark neighbour Jimmy Somervail finished second in his Lotus Eleven and JL Fraser, pictured in his Lotus Eleven registration HGS 6, ended up third.
As for the other cars pictured, JGR 111 was John Campbell's MGA; LDA 7, a well known MG-engined Kieft, was driven by Kenny McLennan and number 18 was AR Millar in the Saltire sports car he shared occasionally with WPS Melville.
I didn't remember this but read of it in Eric Dymock's marvellous book on Jim Clark, his friend. According to Dymock, Scott-Watson paid dearly for his generosity. With Clark so much quicker in the same DKW, the organisers thought Scott-Watson was sandbagging in practice in an effort to get a better handicap. So, for this race, he was awarded few bonus laps so stood no chance at all.