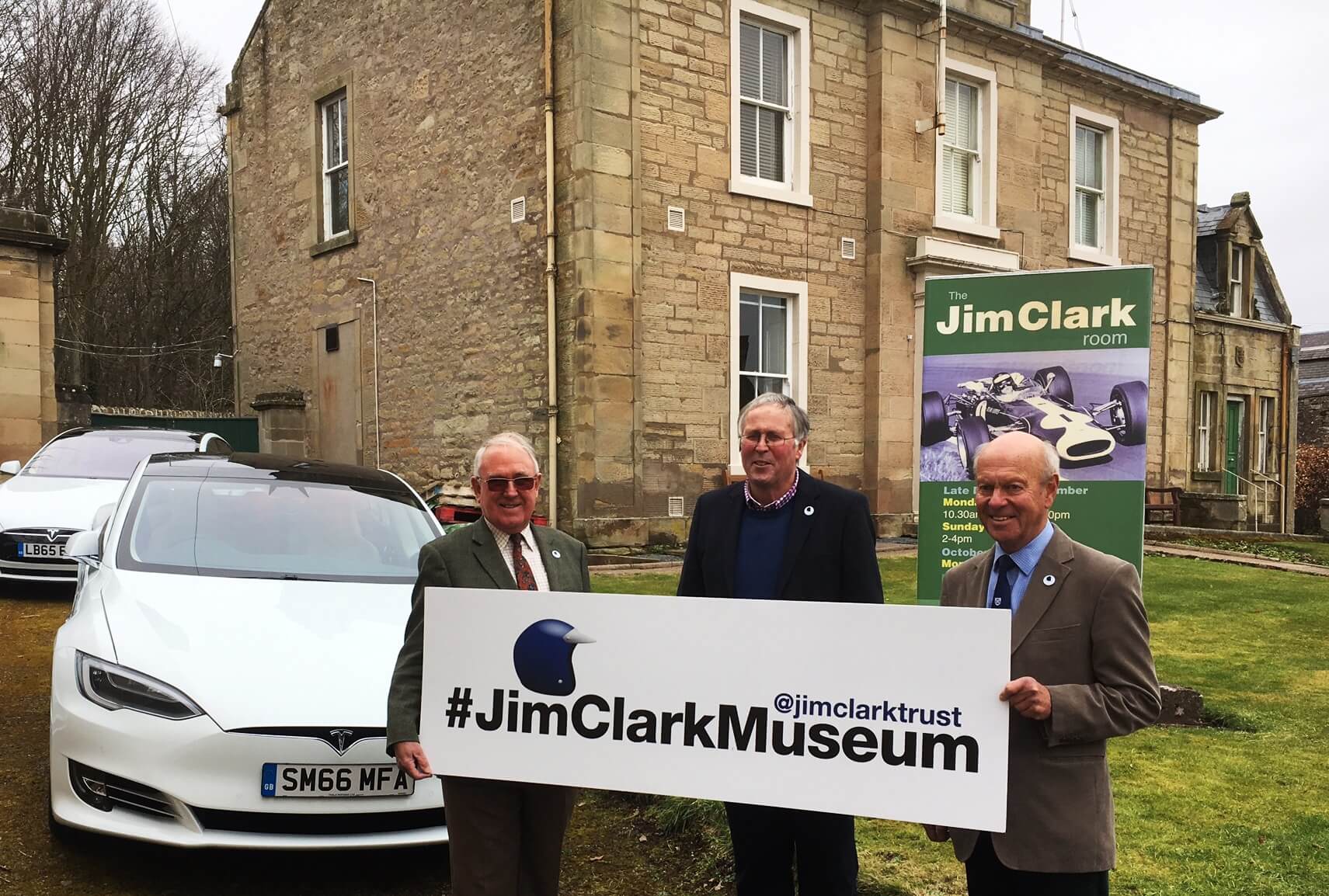 #jimclarkmuseum crowdfunding campaign boosted by electric donation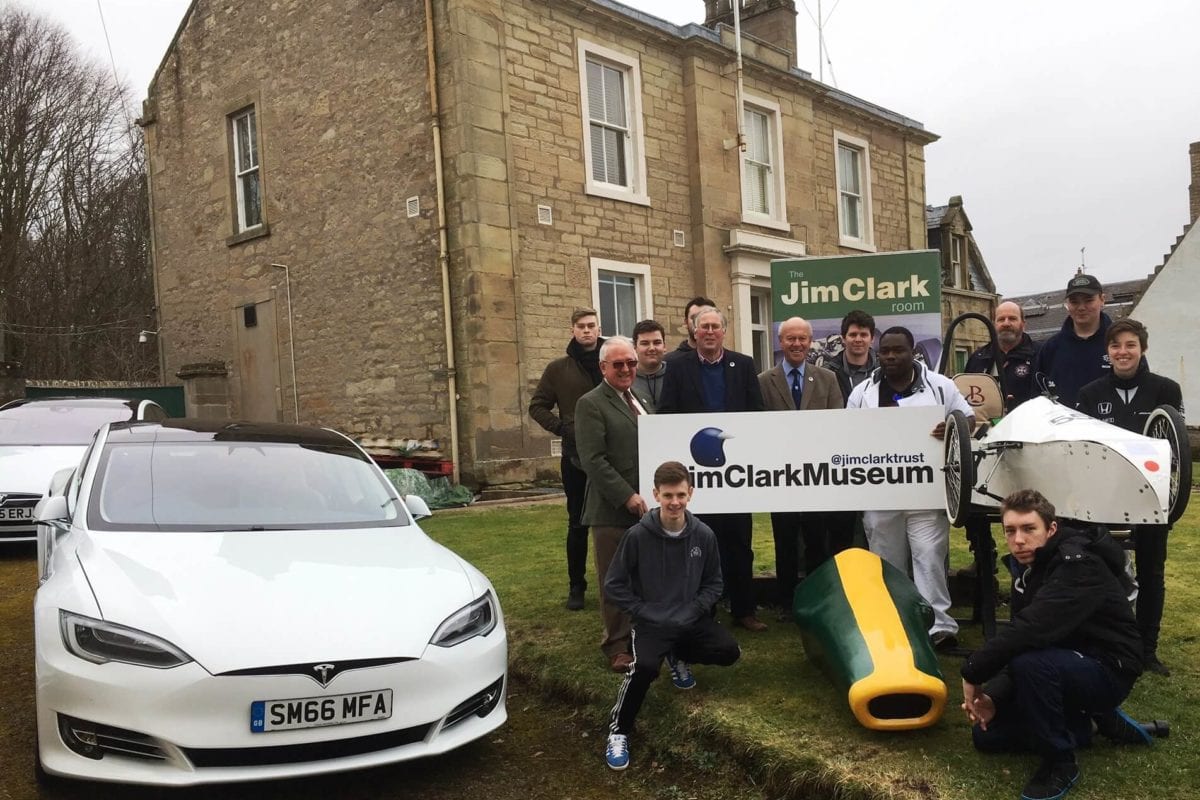 The drive to secure funding for a new, expanded museum to celebrate the life and legacy of motorsport legend Jim Clark has received a £10,000 boost thanks to Scotland's first electric car chauffeur service.
Ecosse EV, a provider of self-drive and chauffeur-driven Tesla electric supercars, made the substantial donation to become an official supporter of The Jim Clark Trust as it unveiled its new fleet outside the Jim Clark Room in Duns, Scottish Borders.
More than 250 people from across the world have already pledged over £40,000 since the #jimclarkmuseum crowdfunding campaign was launched at Race Retro alongside Jim Clark's iconic 1965 Lotus 33 R11.
The donation from Ecosse EV is the latest good news for the project which is backed by motorsport luminaries such as Sir Jackie Stewart OBE, Dario Franchitti MBE, David Coulthard MBE, Allan McNish, Lord March and Clive Chapman.
The electric supercar chauffeur service is the brainchild of Scottish construction and mining entrepreneur Richard Levack, an avid follower of Jim Clark's racing career during the 1960's.
The company already has three Tesla Model S cars with a further two due for delivery in early March. In addition, three revolutionary new Tesla Model X cars have been pre-ordered and are due for delivery in April / May.
 Commenting on his backing for the fundraising campaign Mr Levack said:
"Ecosse EV is making this donation, at the time of the launch of our Tesla self-drive and chauffeur business to help raise awareness for this very worthwhile initiative to commemorate Jim Clark's outstanding achievements and all too short life.

Hockenheim 1968 was a tipping point in terms of motorsport safety, and present day drivers and spectators, particularly in Formula One, must realise and be grateful that the tragic accident that cost Jim Clark his life led to the track safety standards that are in place today.

I would like to call upon everybody with an interest in motorsport to make a contribution to the Jim Clark Trust to assist with their plans for the new museum in Duns."
Ecosse EV will open for business in mid-march, offering electric supercar rental and chauffeur hire across central Scotland for business trips, special occasions, and transfers to Edinburgh and Glasgow airports and leading Scottish hotels.
The Jim Clark Trust is working in partnership with Scottish Borders Council on the new museum project, which has planning approval and a commitment from the Council of £620,000 towards the new £1.6m facility. A further £645,000 of support from the Heritage Lottery Fund has also been pledged.
However, £300,000 is now required to give the green light to the build phase to redevelop the existing site into a modern museum with space to display new memorabilia and two of Jim Clark's race cars.
With over £50,000 donated so far The Jim Clark Trust is seeking support from motor racing fans across the world to get behind the charity fundraising drive for the new museum by donating to the appeal via Crowdfunder.co.uk at www.crowdfunder.co.uk/jim-clark-museum.  All pledges having to be submitted by April 21, 2017 to hit the £300,000 target.
If this target is reached successfully, and with popular support, the Trust's ambition is to then consider a further £300,000 for an extension to the rear of the building to display up to 10 cars or more for a wider celebration of Scottish motor sport.
With education and inspiration at the heart of plans for the new museum, it was fitting that a group of students and lecturers from Borders College also attended the announcement to learn more about the latest in electric car developments. A group of students studying science and technology are working on an electric-powered race car which they plan to enter in a national competition, and the Trust are collaborating to help them raise the profile of their project and offer valuable insight into the world of motorsport.
Doug Niven, cousin of Jim Clark and a Family Trustee said:
"The support for the campaign so far has been fantastic, and donations from supporters like Richard and his company Ecosse EV show just how many people Jim inspired through his achievements and the great affection he is still held in after all these years.  We still have a way to go to raise the total amount so we would welcome donations from other companies or organisations who might wish to become official supporters, and we will continue to work hard to raise awareness of the project and secure as many pledges as possible from across the world. Hopefully once complete the museum can help to inspire the next generation of Scottish racing drivers, like the Borders College students who were here today."