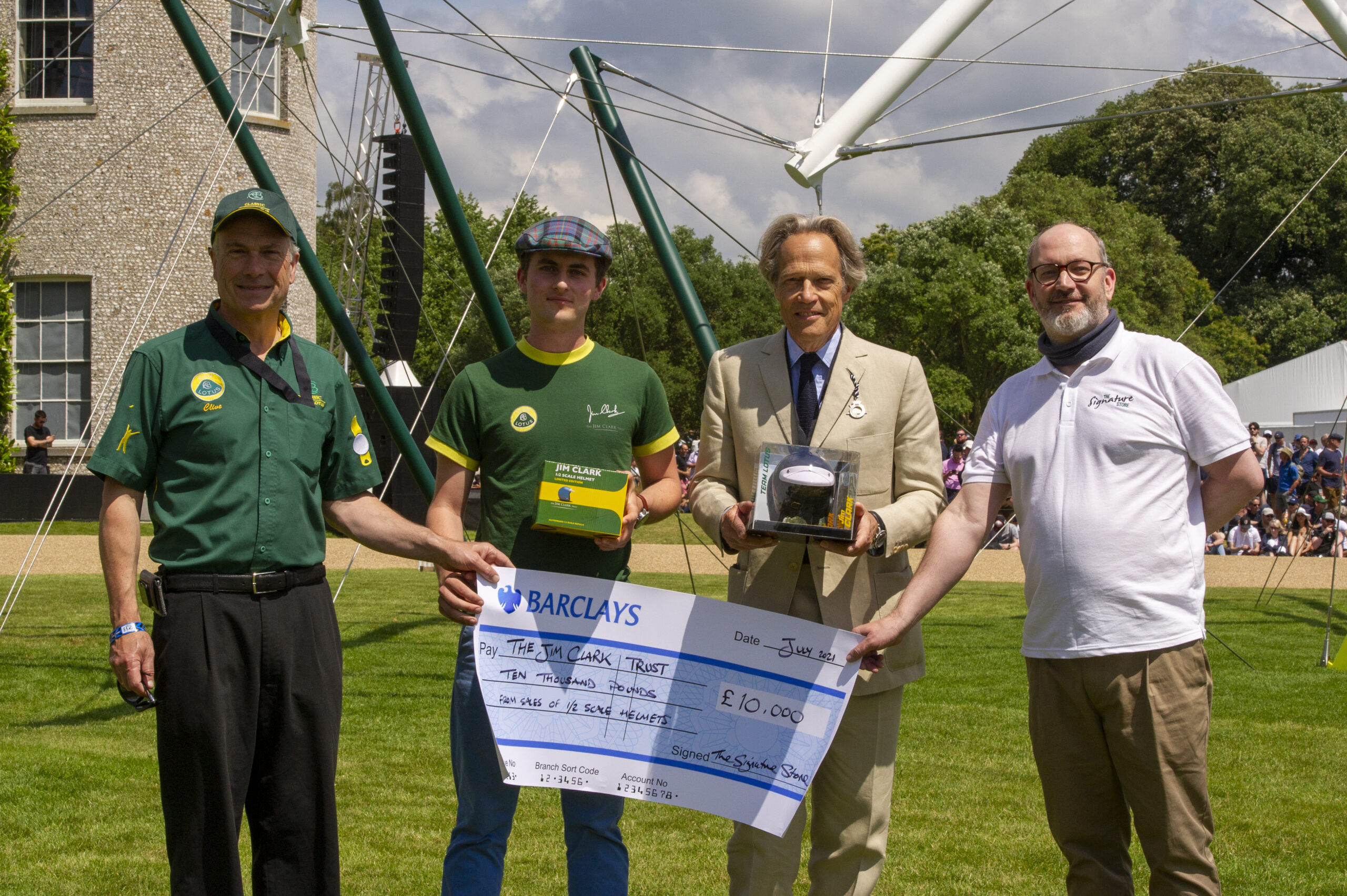 £10,000 cheque presented to The Jim Clark Trust at Goodwood Festival of Speed 2021
The Jim Clark Trust is delighted to announce that £10,000 has been raised so far from the sale of the Jim Clark 1/2 scale helmets produced by The Signature Store.
The Jim Clark Trust were presented with a £10,000 cheque in front of Goodwood House on Friday 9th July 2021. The Duke of Richmond and Gordon, Classic Team Lotus' Clive Chapman and The Signature Stores' Andrew Francis joined Trust Secretary Liam Howel for the presentation and photoshoot. The Jim Clark 1/2 scale helmets have been produced by The Signature Store in accociation with The Jim Clark Trust and Classic Team Lotus. The half-scale replica is the classic open-face helmet that Jim sported throughout his career, but specifically, the 'Grand Prix' helmet from 1965/66, featuring the deep blue shell, white peak with a three stud fixing.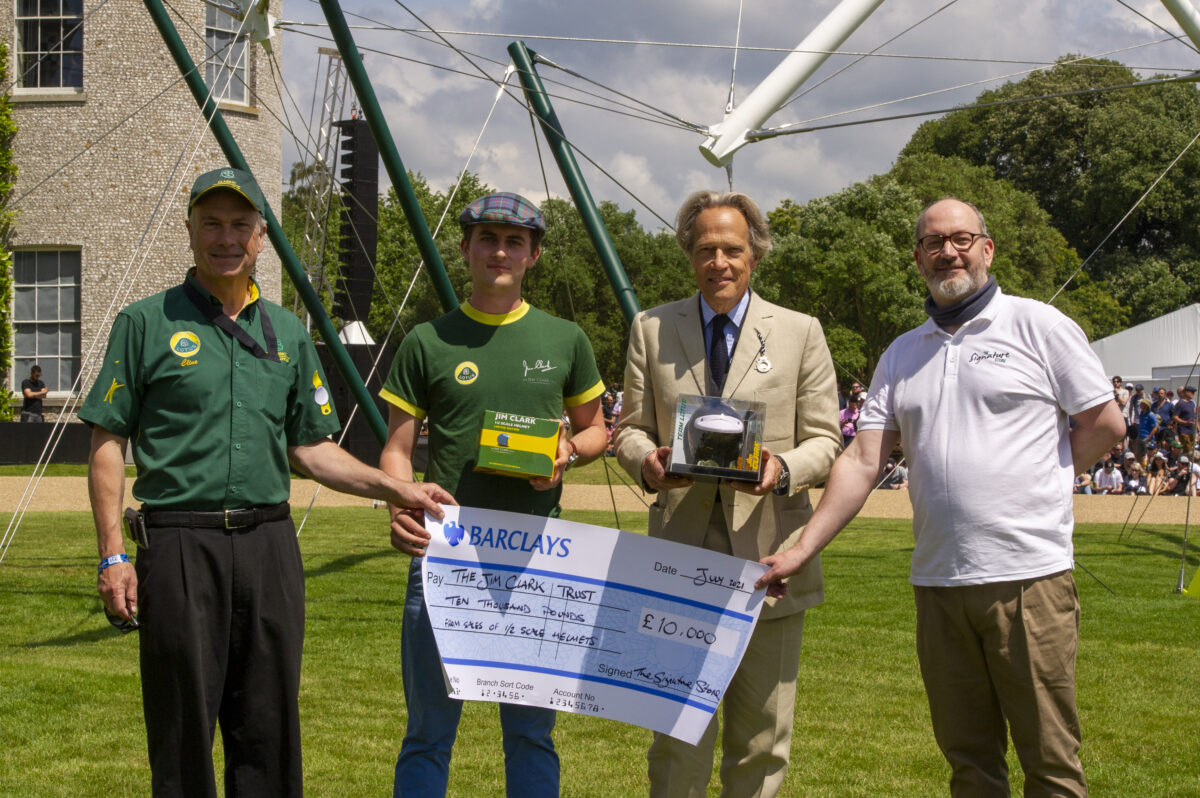 The Duke was presented with a 1/2 scale helmet and was very happy to hear of the continued success of The Jim Clark Trust and The Jim Clark Motorsport Museum
Andrew Francis from The Signature Store said- "What an absolute honour to present the Duke of Richmond with our 1/2 scale replica Jim Clark helmet, which has so far raised over £10k for the Trust, in front of Goodwood House at this years Lotus themed Festival of Speed."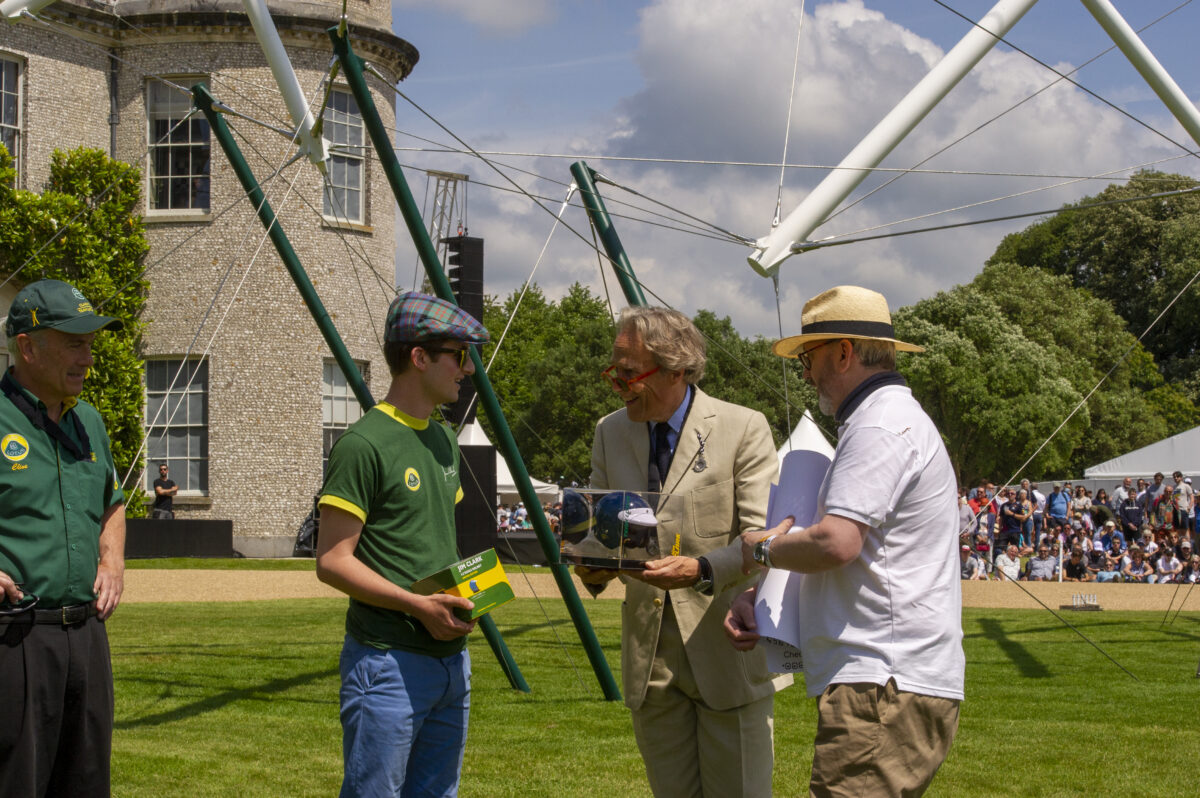 The Jim Clark Trust Secretary Liam Howel said-  "We would like to thank all who have supported the project. Not only has a wonderful product, that depicts Jim's iconic helmet been created but a huge amount of money has been raised for The Jim Clark Trust which will allow us to continue to plan for the future and invest in projects and partnerships to further promote the legacy of Jim Clark OBE".
The helmet has received great feedback so far from fans all around the world. Th idea behind the project was to not only replicate Jim's iconic helmet but to create a fantastic piece of racing memorabilia. You can get your 1/2 Scale Helmet here: https://jimclarktrust.com/product/jim-clark-12-scale-limited-edition-replica-helmet-by-the-signature-store/
Thank you for the support.