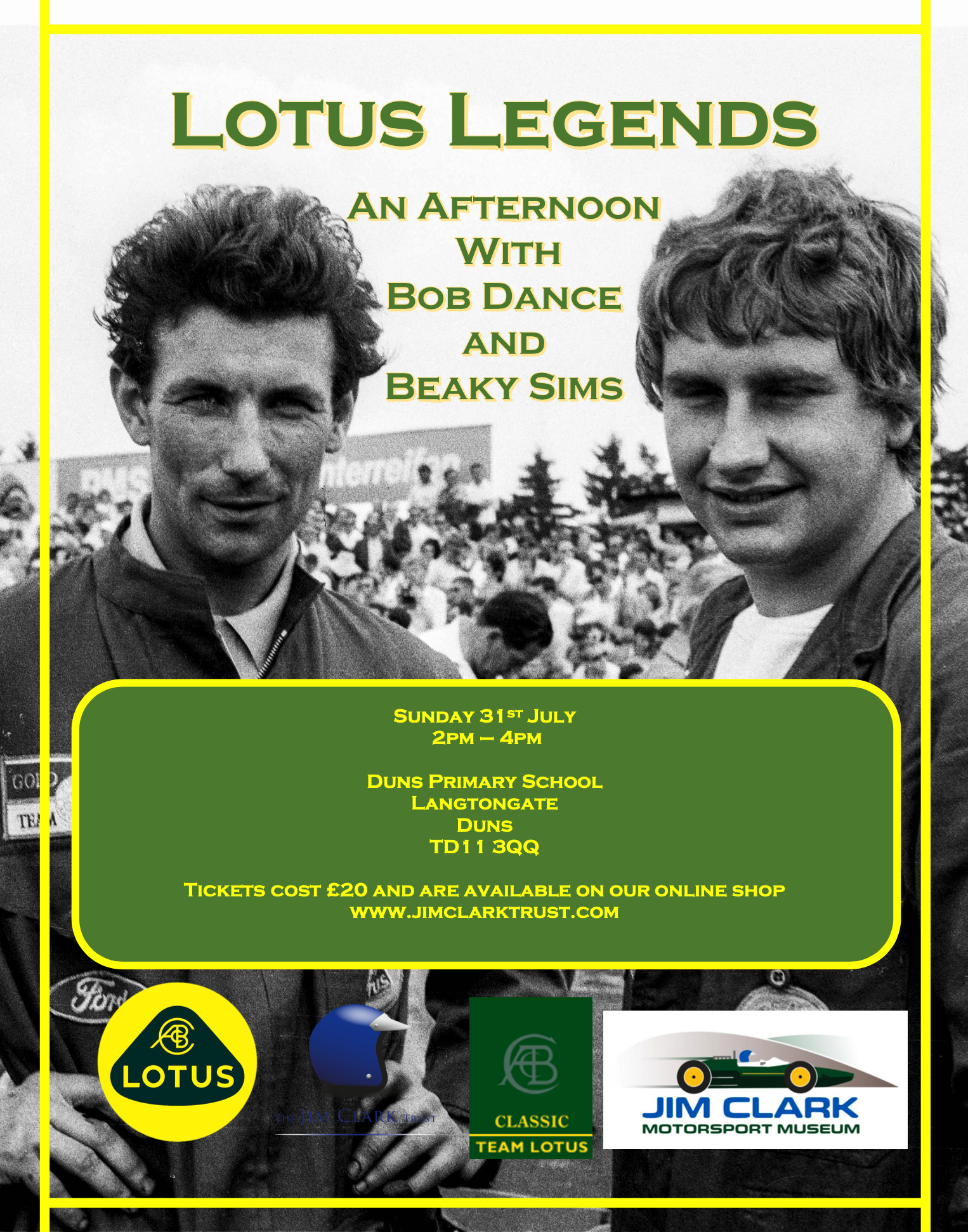 The Jim Clark Trust are delighted to announce "Lotus Legends – An Afternoon with Bob Dance and Beaky Sims"
The Jim Clark Trust are delighted to announce "Lotus Legends – An Afternoon with Bob Dance and Beaky Sims" on the 31st of July 2022 at 2pm until 4pm at Duns Primary School.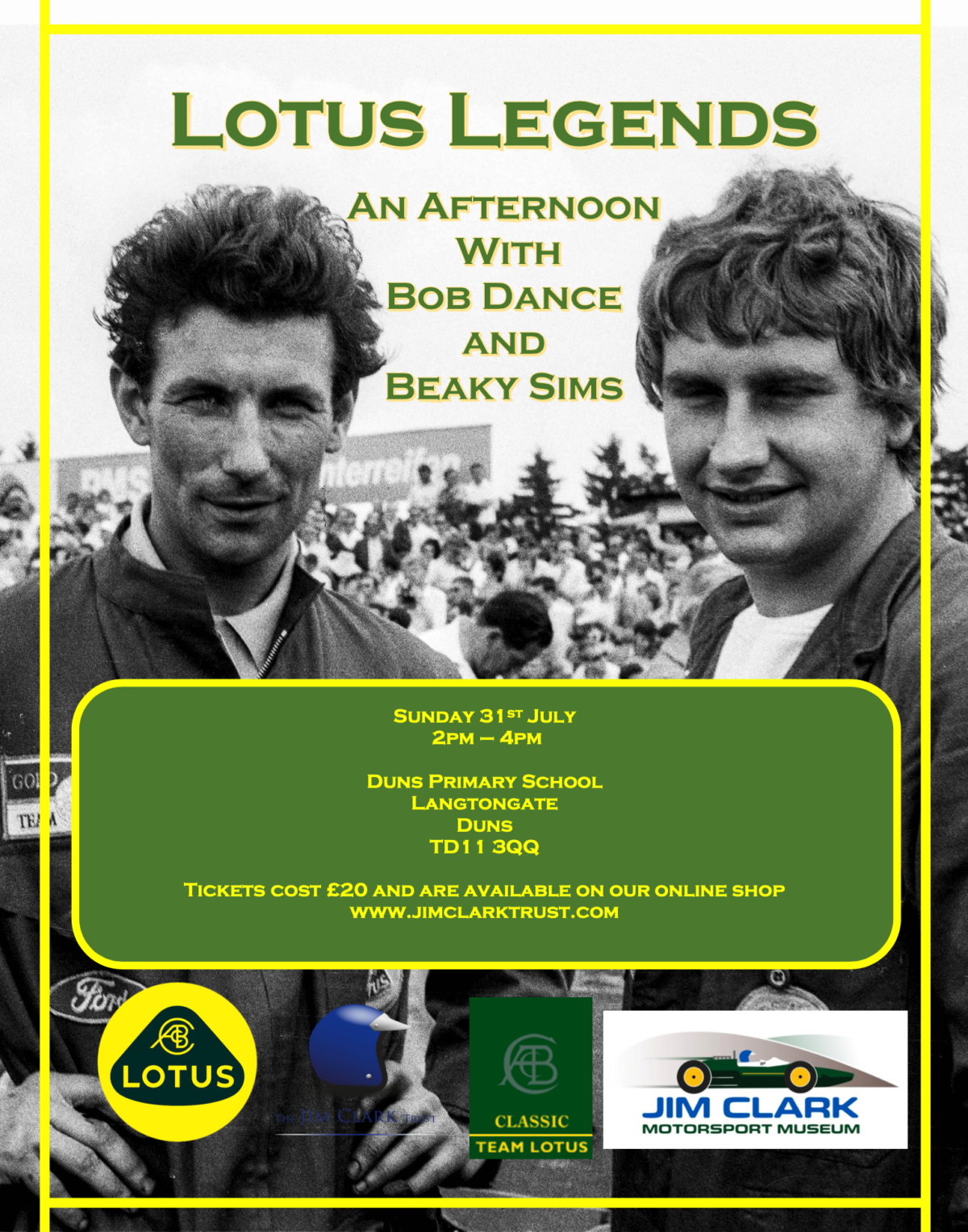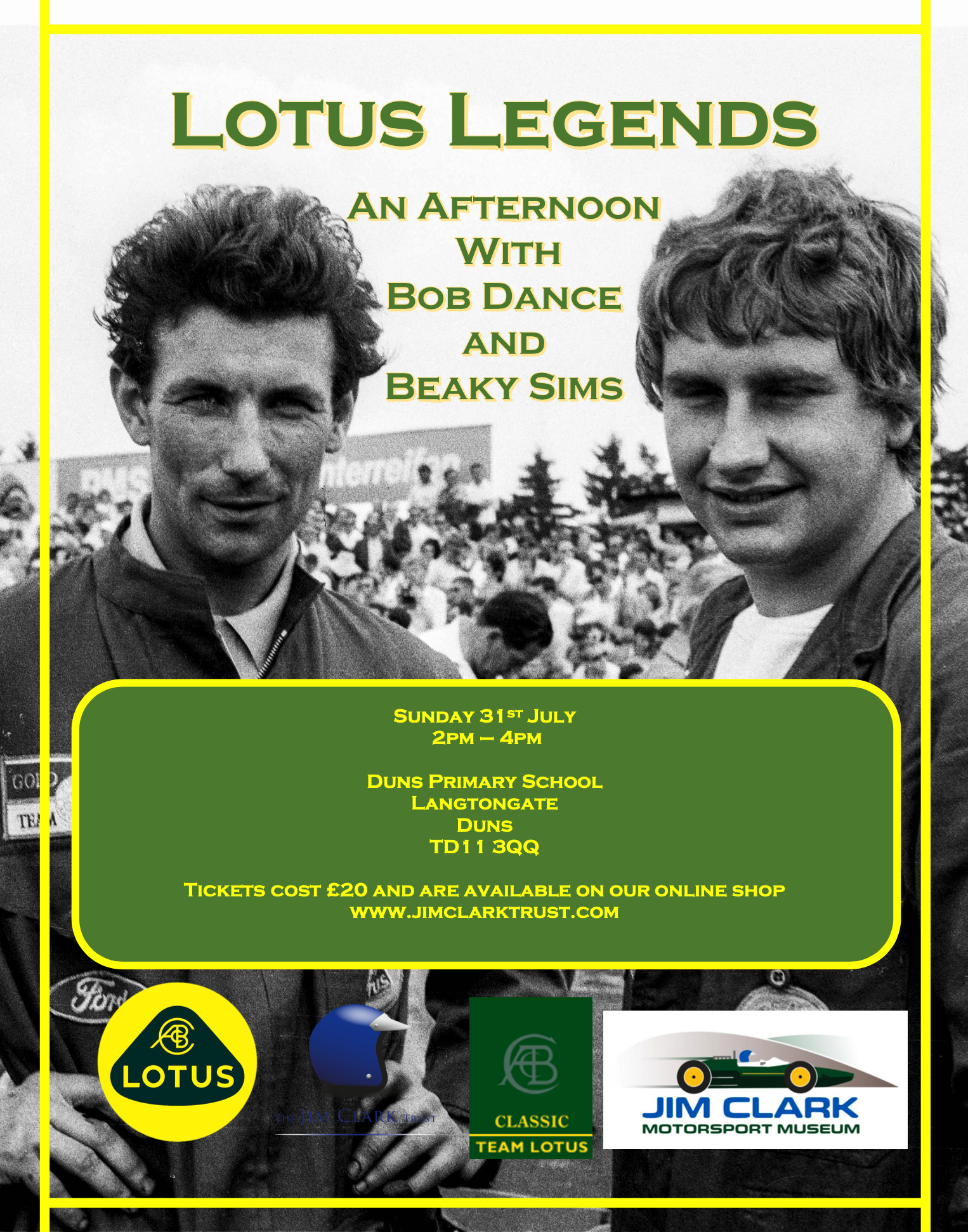 Join us for an engaging and fascinating afternoon with the brilliant minds of Bob Dance and Dave "Beaky" Sims. Learn about their impressive careers within motor-racing and listen to each of their experiences with the late Jim Clark.
CLICK THE LINK TO GET YOUR TICKETS: https://jimclarktrust.com/product/lotus-legends-an-afternoon-with-bob-dance-and-beaky-sims-ticket/
Starting at Team Lotus in 1965 at the age of 19, Dave "Beaky" Sims initially worked on the Lotus Cortinas to be driven by Jim Clark and Pete Arundell in that years' British Saloon Car Championship. Within Lotus he worked his way from saloon cars into Formula Two and then Formula One.
"I was in Formula 1 from the 1960s," says Sims. "Jim Clark, Jochen Rindt, Graham Hill, Mario Andretti. All those guys drove for us at Lotus. I still keep on terms with Mario."
Lotus at the time, with Chapman's imagination and innovation was at the forefront of pushing the boundaries in F1, and Sims was an integral part of this success.
"If you can imagine the talent and ability of Clark, Chapman and computers, and if you could put that together today it would be something else. He was light years ahead on futuristic design, and the aerodynamics of the cars. The feedback from the drivers was phenomenal, and it had to be because there was no data!"
Bob Dance began his career working in Lotus Components, assembling formula 1 cars and sports cars until 1965 when he found himself in the US supporting the English Ford Cortinas with Bob Sparshott and Allan McCall. When extra help was required at Indy, Bob Dance was drafted in and was therefore present for Jim Clark's historic victory.
Bob was there throughout the halcyon days of Team Lotus, joining in 1960. In 1967, he ran Formula 2 Lotus 48s and then stepped up to the position of Formula 1 chief mechanic for 1968 in a turbulent year which saw the deaths of Clark and Mike Spence.
With such interesting and exciting careers, why not take the opportunity to submit a question to be answered by Bob and Beaky. Simply email us at info@jimclarktrust.com with your name and question or contact us through our Facebook, Twitter and Instagram @jimclarktrust. We will endeavour to answer as many of your questions as possible during the afternoon.
Each ticket will cost £20 and can be purchased on our online shop www.jimclarktrust.com . Tickets are not physical – the name inputted at checkout will be added to our guestlist after you have purchased. If you are purchasing multiple tickets, we ask that you provide us with details of the additional ticket holders in the notes section at checkout.
Filming of the event is not allowed.
We look forward to welcoming you to what will be an engaging afternoon of motorsport history.