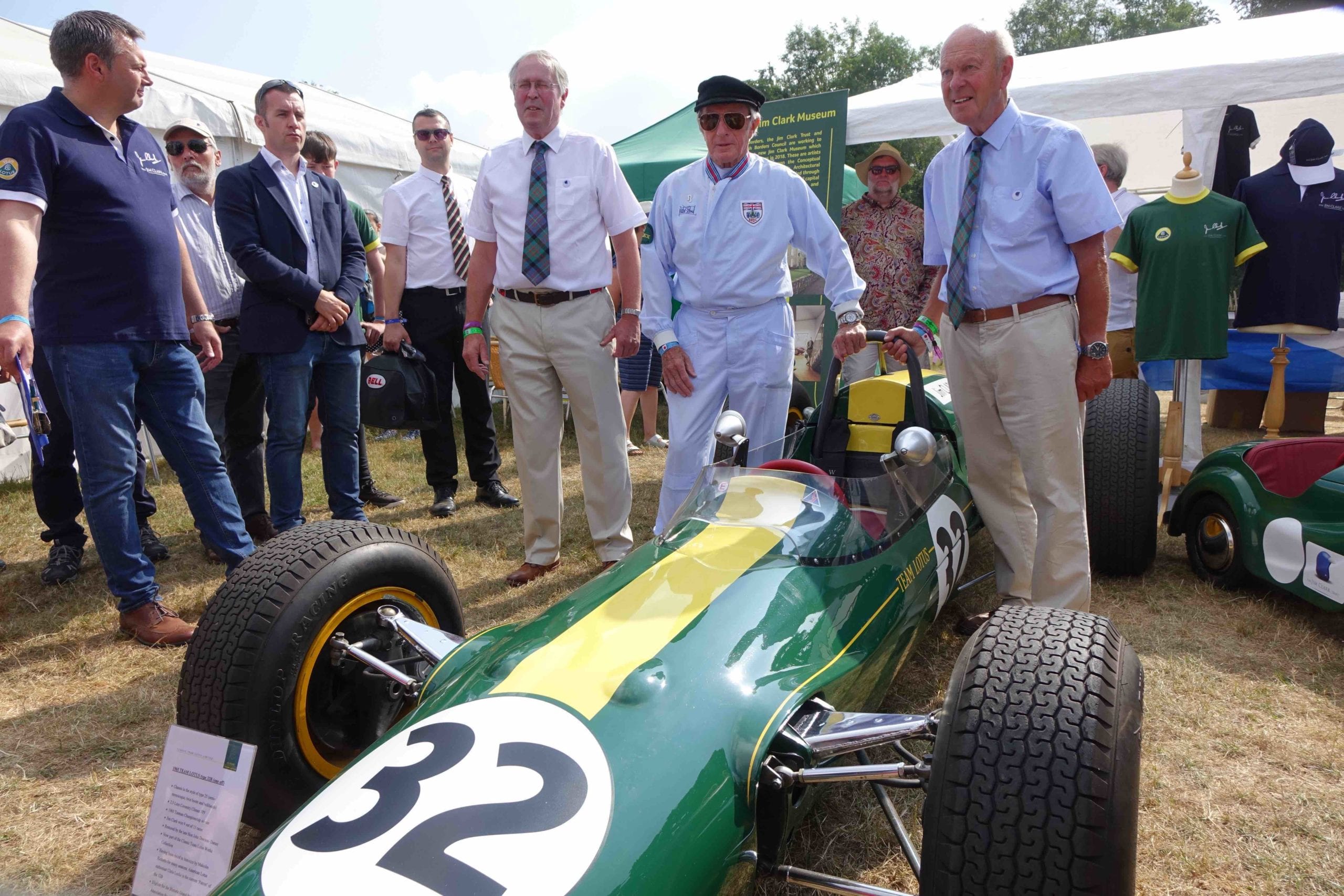 The Jim Clark Trust Announce Plans for New Jim Clark Museum with the Support of Sir Jackie Stewart and Dario Franchitti at the Goodwood Revival
The Jim Clark Trust is delighted to announce plans for a new expanded Jim Clark Museum to open in 2018 with the support of Sir Jackie Stewart as Honorary President and a new Patrons Club with founding member Dario Franchitti.
Plans for the new museum were announced at The Goodwood Revival by Lord March on Sat 14 Sep as part of the 50th Anniversary celebrations of Jim Clark's first World Championship in 2013 and a parade of the greatest collection of historic Jim Clark cars ever gathered to celebrate one of Formula 1's all-time greats. Taking part in the parade to honour Jim Clark alongside Sir Jackie Stewart and Dario Franchitti were motor sport legends Sir Stirling Moss, John Surtees, Jack Sears and Sir John Whitmore with over 100,000 spectators across the 3 days and celebrities including Chris Evans, James Martin, Murray Walker, Christian Horner and Sir Chris Hoy.
Plans for the new museum in Jim Clark's home town of Duns in the Scottish Borders are based around a partnership between The Jim Clark Trust run by family relatives who own the current trophy collection and over £500K capital funding investment from Scottish Borders Council for a new building for an expanded museum.
Since 1969 the existing Jim Clark Memorial Room dedicated to celebrating the life and motor racing career of Jim Clark has attracted over 300,000. The ambition of the Trust over the next five years with the support of Sir Jackie Stewart and Dario Franchitti is to attract Patrons and supporters to help to expand the current collection with new memorabilia to inspire future generations with a modern and vibrant celebration of Jim Clark's incredible career and impact on motorsport around the world with trophies, pictures, film footage and some of the cars in which he raced. Speaking at the announcement for the Jim Clark Trust, family Trustees Doug Niven (cousin) and Ian Calder (nephew) said:
"On behalf of the family of Jim Clark we would like to say an enormous thank you to everyone involved in the 50th Anniversary celebrations here at the Goodwood Revival and in particular to Lord March and his team for gathering together the most wonderful collection of cars in which he raced. We are thrilled to announce plans for a new museum by 2018 with a five year plan supported by Sir Jackie Stewart, Dario Franchitti and with important partners such as Classic Team Lotus and Clive Chapman.

We are touched by all the support from those who Jim inspired many years ago with many of his fellow competitors, friends and fans here at Goodwood and our aim is to keep his legacy alive with the new museum in Duns to inspire the next generation with a celebration of his life and motor sport."
The stunning incredible collection of over 30 Jim Clark cars present for the parade in which Jim Clark drove included: 2 1963 World Championship winning Lotus-Climax 25's, the 1965 Indianapolis 500 Lotus-Ford 38 on loan from the Henry Ford Museum in US, the 1965 World Championship winning Lotus-Climax 33, a DKW 3-6 Sonderlasse, Porsche 365A coupe, Lister-Jaguar 'flat iron', Aston Martin DBR4, Aston Martin DB4 GT Zagato, 3 Lotus 18's, 2 Lotus 21's, Lotus' 29 / 30 / 38 / 40 / 43 / 48 and 49, 2 Lotus-Climax 21's, 5 Ford-Lotus Cortina's, 3 Lotus Elan's and a Lotus Elite.
The 20th Century was the birth of motor sport and in Jim Clark, Scotland had the pre-eminent driver of the 1960s. He was admired and liked by almost everyone who knew and raced against him. The statistics of his achievements; two Formula 1 World Championships (1963 and 1965), winning the Indianapolis 500, winning 25 of 72 Grand prix races with 33 pole positions, speak for themselves, but it was also his incredible natural ability across all forms of motorsport from F1 to GT, sports cars, saloons and to rallying that for many ranks him as one of the greatest motor racing drivers of all time.
Jim Clark raced simply because he enjoyed it. Although a shy and private individual he became a hero to millions and was known the World over. People were attracted to his modesty, his innate friendliness and to the integrity with which he conducted himself. Somehow and effortlessly, just like his driving, he became an icon for his sport and for his country. Born on 4 Mar 1936 in Fife, Jim Clark was six when his family moved to Edington Mains Farm in Duns and died tragically during an F2 race at Hockenheim in Germany in Apr 1968.