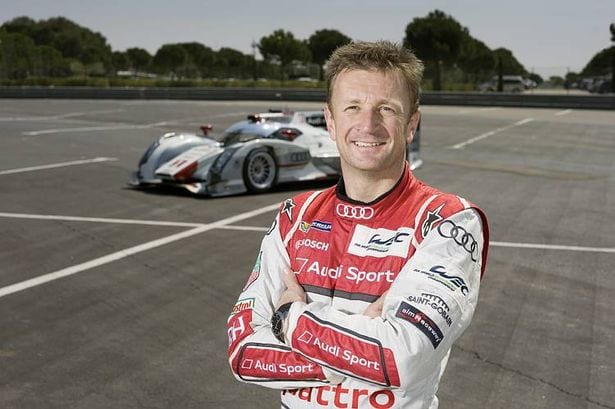 Allan McNish joins Jim Clark Trust as Patron at Autosport International to support plans for New Museum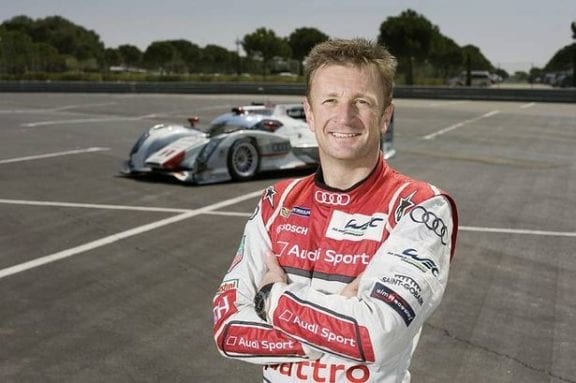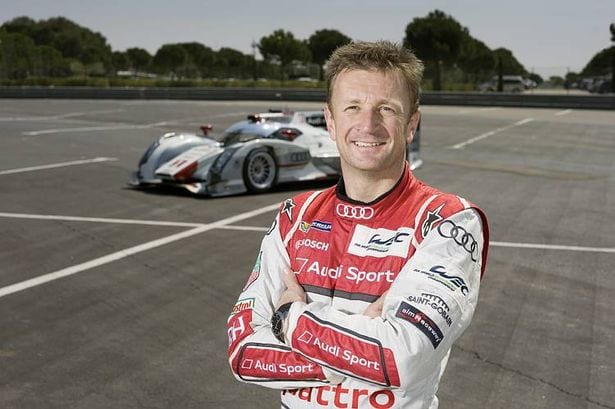 The Jim Clark Trust is delighted to announce triple Le Mans 24 Hour race winner, 2013 FIA World Endurance Champion, ex-Formula One driver and proud Scot, Allan McNish, as their latest Patron to support plans for new Jim Clark Museum by 2018.
Dumfries-born Allan was confirmed as a Patron at the Autosport International 2015 celebrating 50 years since Jim Clark won his second F1 World Championship and famous Indianapolis 500 victory in 1965. To mark the occasion The Jim Clark Trust reunited historic trophies with Classic Team Lotus winning cars. At the same time plans were announced for Classic Team Lotus to visit Duns on 16 & 17 May for a Jim Clark Weekend to celebrate the 50th anniversary with Club Lotus; featuring classic racing cars, touring cars and modern sports cars.
Allan joins fellow high profile supporters for a new Jim Clark Museum in his home town of Duns, Scottish Borders, to celebrate the legacy and inspiration of one of the world's greatest ever motorsport legends; with Sir Jackie Stewart as Hon. President and other Patrons including Clive Chapman, Dario Franchitti, David Coulthard and Lord March.
"I am very proud to be a Patron of The Jim Clark Trust. I like many other Scottish Racing Drivers have looked to follow in his footsteps." Allan commented on the announcement. "He was a massive inspiration and as I sit composing a few words I am actually looking at a painting of Jim which is hanging in my office as he rounds the Loews hairpin, which was called the Railway Station hairpin corner at that time in Monaco, a beautiful sight and he still inspires to this day. I think it is only fitting that there is a new museum showing the man that literally drove Scottish motorsport in to the history books. I hope and I am sure that with the dedication of all the people involved that we make this a reality in the near future."
The Jim Clark Trust, Family Trustee and cousin, Doug Niven, commented:
"We are absolutely delighted that Allan has joined us a Patron and we would like to thank him for his support. He is much admired and respected after a hugely successful career. It is also very fitting as Hon. President of the Scottish Motor Racing Club that Allan should lend his support to the Trust and plans for a new museum with the two previous Presidents being Sir Jackie and Jim Clark. As a small organisation we are very fortunate to have Allan on board and welcome interest from anyone inspired by Jim to get in touch and help support our future plans."
Clive Chapman, Team Principle of Classic Team Lotus and Patron added his endorsement:
"It is wonderful that the Jim Clark Trust has attracted such excellent support from so many prominent figures in motorsport and no doubt Allan McNish will be able to make a very significant contribution to the momentum building up around exciting developments for a new Jim Clark Museum. The Chapman Family looks forward to working together with Allan, fellow Patrons and the Trust to remember and celebrate the spirit of Jim Clark for future generations."
50 years ago in 1965 Jim Clark enjoyed his most successful year ever with six consecutive wins helping to secure his second F1 World Championship (Type 33) and becoming the first non-American in a generation to win the Indianapolis 500 (Type 38), effectively leading from start to finish. He also won the F2 World Championship (Type 35) and Tasman Series in Australia (Type 38). All four stunning historic cars are on display at Autosport with Classic Team Lotus. Winning both the F1 and the Indy 500 titles in the same year has never been repeated – and in a different era catapulted Jim Clark to superstar status in contrast to his farming roots in the Scottish Borders. From 1960 to 1968 Jim Clark started in 72 Grand Prix's claiming 33 pole positions and 25 victories, winning two World Championships in 1963 and 1965.
Plans for a new museum are awaiting final confirmation of a commitment from Scottish Borders Council in mid Feb of over £540K capital funding investment to upgrade the existing small museum in Duns. The current museum is run by the Council in partnership with The Jim Clark Trust with over 100 historic trophies. Plans for a new museum by 2018 include expanding the current collection with new memorabilia to inspire future generations with a celebration of Jim Clark's incredible career and impact on motorsport around the world with trophies, pictures, film footage and some of the cars in which he raced.
The Classic Team Lotus and Club Lotus weekend on 16 & 17 May is a repeat of the highly successful event first held in 2013 to celebrate Jim Clark's first World Championship in 1963 and attracted thousands of visitors from far and wide, with classic and modern sports cars parading through the streets of Duns. The event is free to the public.
Jim Clark is widely regarded as one of the greatest and naturally gifted motor racing drivers of all time, a national hero for Scotland and international icon still much admired around the world to this day. He was a farmer at heart revered not just for his ability in all types of motorsport and partnership with Colin Chapman and Team Lotus, but also for his sportsmanship and modesty.
Born on 4 Mar 1936 in Fife, Jim Clark was a young boy when his family moved to Edington Mains Farm in Duns and he died tragically during an F2 race at Hockenheim in Germany in Apr 1968.